The 2021 Dodge Durango Located at Martin Chrysler
Martin Chrysler has been the Premier dealership in Brooks, Alberta, since 1944. We have always made customer service our foundation, and it has helped us create friendships with our customers. We deal in various Dodge and Chrysler models, both new and old, and we also do vehicle repair and servicing. Martin Chrysler also serves the surrounding areas of Newell, Duchess, Tilley, Patricia and Rosemary.
About 2021 Dodge Durango
There are many mid-sized SUVs in the automotive market, but the 2021 Dodge Durango still stands tall. Most of the available SUVs often offer four-cylinder engines, but the vehicle takes it a step further by starting at six-cylinder with room for an upgrade to the Hemi V8 engine.
The vehicle is also family-convenient since it comes with optional third-row seats. The vehicle has enormous strength, and its V8 engine makes it even more potent in towing matters.
Interior and Exterior Features
For its interior design, the 2021 Durango comes fitted with a 10-inch touchscreen and wireless charging pads. If you enjoy music on the road, 2021 Durango has got you covered because the vehicle has an epic 19-speaker Harman Kardon Prum Audio System.
The vehicle also comes with enormous cargo space and over 50 seating configurations. For its exterior design, the 2021 Durango is also impressive. The vehicle comes in over eleven exterior colours, LED headlights and fog-efficient ones, too.
The signature Dodge LED racetrack taillamp is also fitted in the vehicle.
Performance and Towing Capability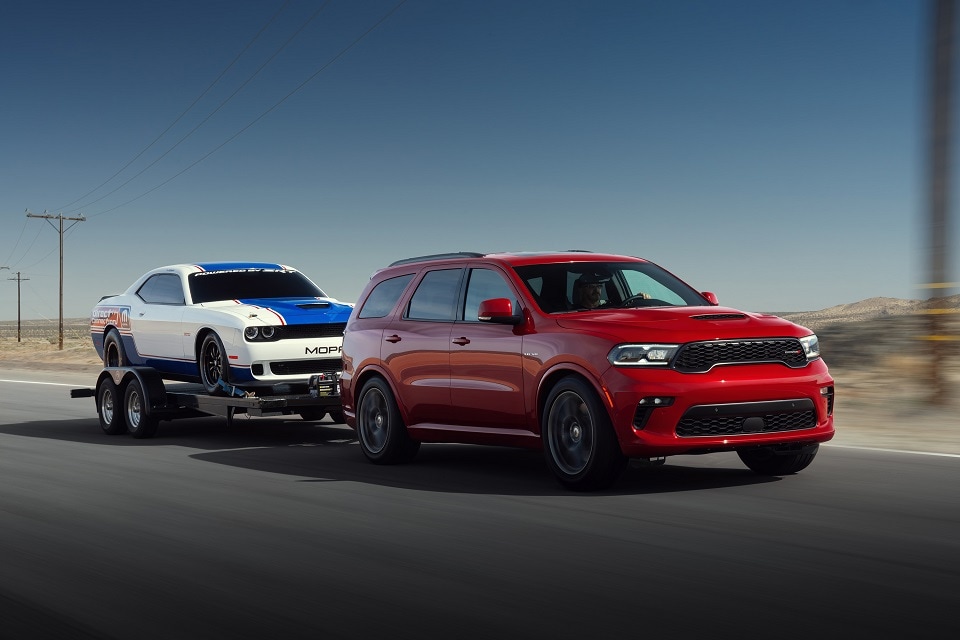 Both engines that are available for the vehicle are nothing short of powerful. The V6 goes from 0-100 km/h in 7.4 seconds, while the V8 is only 6.2 seconds. It also comes with a rear-wheel-drive that completes the athletic feel of the vehicle.
Its V8 engine is capable of 360horsepower, and the V6 gives off 295 horsepower.
The towing capacity of the 2021 edition of the Dodge Durango lives up to its name of the muscled SUV. The vehicle can tow up to 7,400 pounds worth of load and has very impressive for an SUV.
Safety and Security Features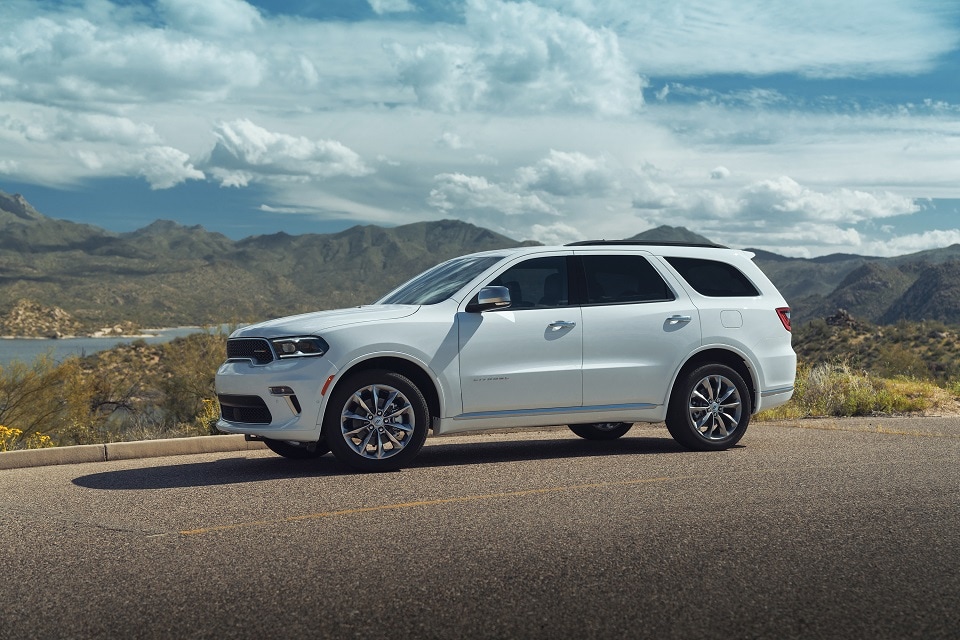 Although the vehicle has not been crash-tested by the National Highway Traffic Safety Administration, it has many safety features to ensure a safe drive. The vehicle comes fitted with automated emergency braking, adaptive cruise control and lane-keeping assistance.
The vehicle also comes fitted with security features such as Child safety rear door locks, a backup camera, traction control, tire pressure monitor and parking aid.
Contact Us
Feel free to contact us for more information about the 2021 Dodge Durango in Brooks, Alberta, and we'll be there to serve you. You can also check out our new inventory of both used and brand new vehicles. Feel free to apply for financing through our finance centre for pre-approval.